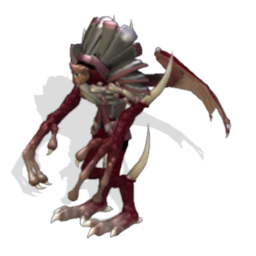 Demonic beasts from the edge of the galaxy. Their main goal in life is dominance. But not the common type of Dominance, no. They want to be the puppet masters, controlling from behind the scenes.
Property: The Kar'Geualiea own a ring around the galaxy. This ring is extremely thin, being only three stars thick and with large amounts of stars on either side. The home planet of the Kar'Geualiea no longer exists due to the war with the Forlarm.
Culture: The Kar'geualiea have a strange government. Each family works like a monarchy in itself, controlling a star system but still reporting to the emperor (now Underseer) and following his every command. Each of these families is not a dozen individuals though, it is a collection of hundreds of Kar'Geualiea. Some of the younger, less owerful family members work as soldiers or pilots or in a few cases, drone maintenance.
The colonies of the empire consist of hundreds of dark, regal looking towers that encircle a shadowy palace. These colonies are mostly underground as to give the impression of non-existence. In rare cases, primitive civilisations have evolved on the surface of the desert worlds which the Kar'Geualiea torment as the equivalent of demons. The colonies are populated by slaves, allies and some times, genetic experiments that have gained sentience.
The kar'geualia where also the first race to develop intergalactic travel. They moved to the third closest galaxy to our own, and unleashed the full power of their super weapon, the galaxy drainer. They sucked all the moisture from the inner ring if their new galaxy and quickly colonised every planet in that area. The drainer is now a fortress, that floats above a tamed black hole. Around the black hole, hundreds of planet sized space stations orbit the galaxy drainer and control the imperium. The races in the outer ring of the galaxy are resentful of the KGI, but none of them are strong enough to resist. Anyone who grows beyond what the KGI calls acceptable, is eradicated in a swift onslaught.
To be continued...
Last edited by Scrylonsis13 on Sun Jan 13, 2013 8:35 am; edited 5 times in total

Scrylonsis13

Cadet




Posts

: 184


Join date

: 2012-07-30


Location

: On fire. Most likely.




Darkel

Administrator




Posts

: 1463


Join date

: 2012-07-29


Age

: 20


Location

: USA, Ohio



Here is a gallery of all my KGI drones. Expect more to come
KGI Drudger drone

The Drudger is the face of KGI drone forces. It acts as your basic infantry and is seen at all major battles. Armed with an energy blade and a pulse blaster, these are powerful trademark troops.
KGI Stalker drone

KGI special operations. These drones are used for espionage, sabotage and are sometimes seen in battles to bolster the forces. Armed with small rocket blasters and an upgraded energy blade, Stalkers make very good secret agents.
KGI Eclipse drone

These work as captains among the Drone ranks. Not the highest ranked drone and not always obeyed, but still nessisary. Armed with electric tail blades, energy blades and a pulse gun, they have a good arsenal.
KGI spider drone

These are ridiculously mass produced and are used for the age old tactic of throwing troops at the problem until it goes away. Simple robotics and weak weaponry make them a small expense to loose in all battles.
KGI leviathan drone
Tentacle-

Body-

Leviathans are the first and so far the only aquatic drones. They are huge. Bigger then a mansion and infinitely more powerful. They are used to eliminate aquatic races before the KGI come in and drain the planet and move in. So far my personal favourite. If only I could make it as one creature.

Scrylonsis13

Cadet




Posts

: 184


Join date

: 2012-07-30


Location

: On fire. Most likely.



well that my friend is really cool looking. Better than me for sure.

The Stalker of Shadows

Cadet




Posts

: 150


Join date

: 2012-08-28


Age

: 26


Location

: Now if I told you that then I'd have to kill you.



Thanks, it took alot of work. I'll find a Kar'Geualiea picture soon.

Scrylonsis13

Cadet




Posts

: 184


Join date

: 2012-07-30


Location

: On fire. Most likely.



Non-spore drones
These are drones that cannot be made in spore, due to complexity, or are to rare to be used in that way. So, my first one is a biggun...

Hypertex Drone
The Hypertex is the KGI's answer to AA guns. These drones are similar to ten foot tall canines with a massive AA turret seamlessly attached to their backs. They are a darker metal than normal drones, and have the usual spiked persona. A traditional single optic head is used, along with the jagged design of the bodywork. They are used sparingly as building them is less than easy.

Scrylonsis13

Cadet




Posts

: 184


Join date

: 2012-07-30


Location

: On fire. Most likely.




---
Permissions in this forum:
You
cannot
reply to topics in this forum